Cuman na mBunscol Div 4 Finalists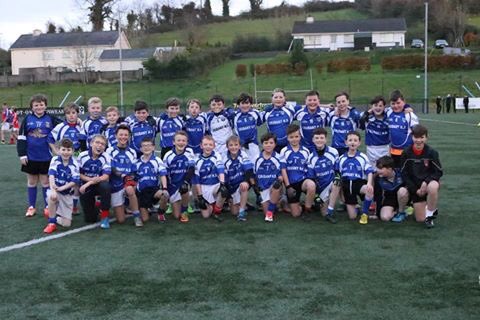 11.11.2017 Cuman na mBunscol Div 4 Final – Crubany N.S. 3-02, Castletara N.S. 5-10
Crubany N.S. knew they were up against it against Castletara N.S. having already lost to them earlier in the competition. But they all fought with heart and pride throughout the game and played some great football against a stronger team. It didn't help when Castletara got off to a flying start with an early goal. But Darragh Gilsenan was in superb form and made some fantastic saves on numerous occasions. Neil Reilly got Crubany's first point but Castletara kept picking off the points. Crubany never stopped trying and were rewarded when Cian O'Reilly broke through on the end of some great teamwork to slot the ball home for a goal. Castletara finished out the half strongly, however, with a couple of goals to leave the half-time score at Crubany 1-01, Castletara 3-07.
If Crubany put up a great battle in the first half, the players fought even harder in the second. It started with a great early goal from Neil Reilly who covered every blade of grass from defence to attack. Along with his team mates, they tackled like tigers. Darragh Gilsenan pulled off a couple of more great early saves to keep his team in the game. Then Charlie Fallon nipped in to take his goal well and give Crubany a huge morale-booster. There were only a couple of scores between the teams at this stage. Crubany gave it everything they had in the last ten minutes but they were thwarted by a physically stronger Castletara team who probably had more older players than Crubany. This gave them a significant advantage and they converted the scores in this period to make them convincing winners. Tyler Carmichael slowed them up a bit with a well-taken point after coming on as a substitute.
The Crubany lads can proud of their efforts. Aside from the players already mentioned, Paddy Brides and Ben Murphy stopped plenty of attacks and Sean McDermott showed some silky skills to set up attacks from the rear. Jamie McDonald was also very effective along the wing and Jamie Lovett and Mark O'Connor tried hard as well. Oisín McCabe, Rossa Greaney, and Thomas Gilsenan played their part in putting it up to the opposition. Hard luck lads but ye can be very proud of your efforts. There's always next year with your club and your school.
Squad on the day – Darragh Gilsenan, Ben Murphy, Charlie Fallon (1-00), Cian O'Reilly (1-00), Jamie Lovett, Jamie McDonald, Mark O'Connor, Neil Reilly (1-01, 1f), Oisín McCabe, Paddy Brides, Rossa Greaney, Sean McDermott, Thomas Gilsenan, Tyler Carmichael (0-01), Conor Gilsenan, Declan Cosgrave.