U15 Girls Div 1 County Champions 2017!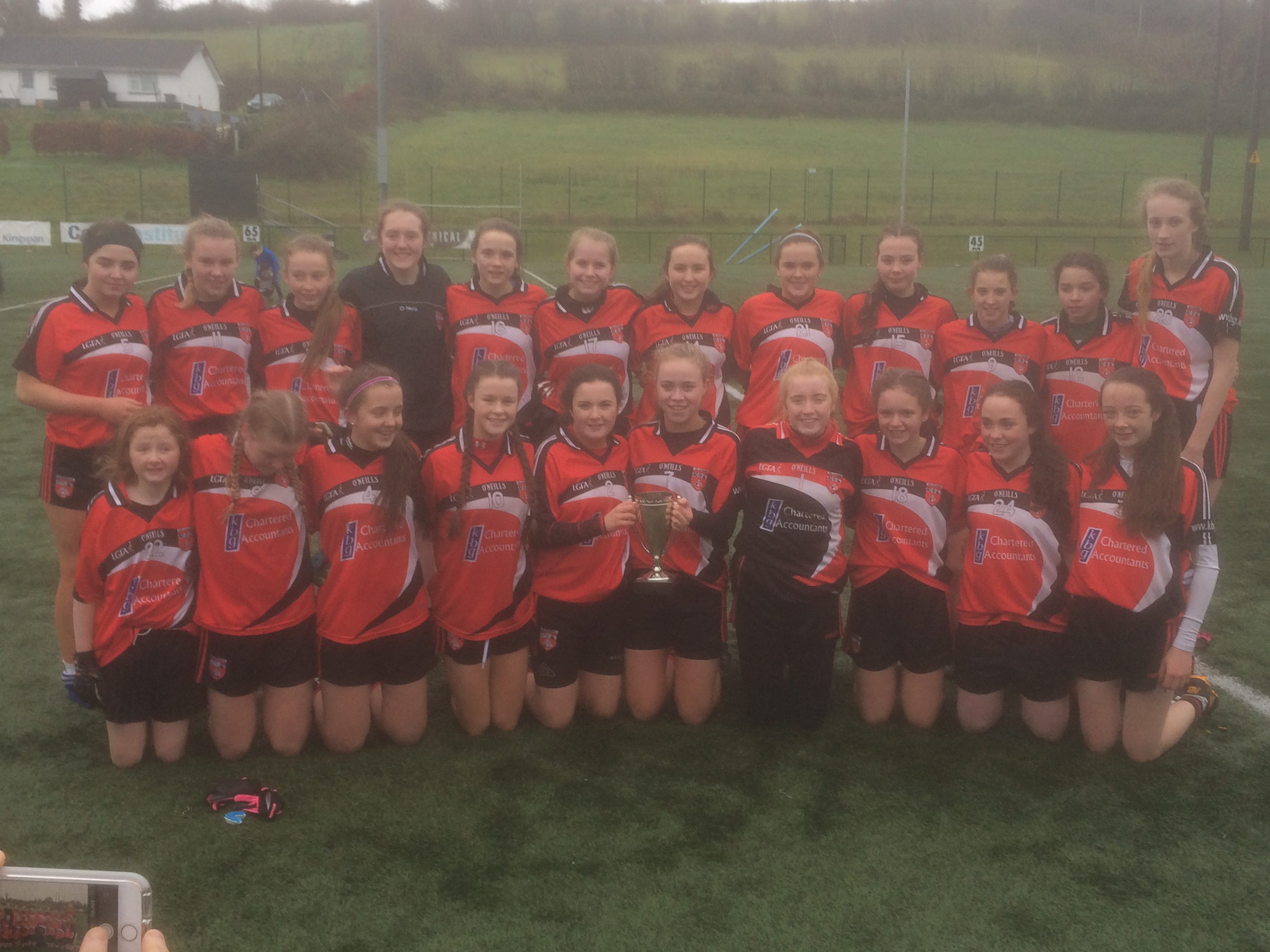 Congratulations to our U15 Girls who won the Div 1 County Championship by beating Castlerahan/Denn on a scoreline of 7-11 to 3-02. Well done everybody.
This talented group of girls have had that winning habit for a number of years now and they continued that habit last Sunday in another final on the Breffni 3G. Aoife Lovett started the ball rolling with two early points but Castlerahan/Denn burst through for an early goal to set down their own stall. A few minutes later Faith Galligan cancelled out their goal when she struck the net. There was only two points between the sides at the end of the first quarter. Aisling Walls swapped points with the opposition before Kaioni Tuipilatou struck gold with a fine goal to put some daylight between the sides. Faith Galligan added another goal but Castlerahan/Denn pierced the Killygarry defence for a second time for a goal as half-time approached. But Killygarry stuck their heels in and closed out the half strongly with another point from the ever-accurate Aoife Lovett and a well struck goal by Deirbhle Lynch to leave the half-time score Castlerahan/Denn: 2-02, Killygarry 4-04.
It was all one-way traffic in the second-half. Slick passing and good tackling were the foundation for the flood of scores that came. Aisling Walls glided past defenders for an early goal. Aoife Lovett and Aisling added points before Ally Cahill burst through to score an unstoppable goal. This was followed quickly by a goal from Aoife Lovett followed by two points from Ally. Killygarry scored 3-04 in the first ten minutes of the half to put the game well beyond doubt. They emptied the bench to give as many of their squad as possible game time in the last game of the season. Scores dried up in the last quarter but Emma Comiskey got a point and Aisling Walls finished Killygarry's scoring with two points from play. Castlerahan/Denn got a consolation goal in the last minute before the final whistle.
Massive credit must go to this group of players and their managers for the quality and style of football played by these players. Well done to all and enjoy the winter break.
Squad on the day – Joanne Reilly, Ava Sheils, Clodagh Kennedy, Maria Lovett, Amy Galligan, Kaoini Tuipulutu (1-00), Gráinne Cahill, Ally Cahill (1-02), Eimear Cahill, Deirbhle Lynch (1-00), Aisling Walls (1-04), Grace Smith, Faith Galligan (2-00), Aoife Lovett (1-04), Emma Comiskey (0-01), Shauna Gilsenan, Maeve Young, Dearbhla Brady, Emma Delaney, Sophie Smith, Keelin Burke, Aoibheann Morrison, Katie Lynch, Katie Sheanon.