Seniors overcome Lacken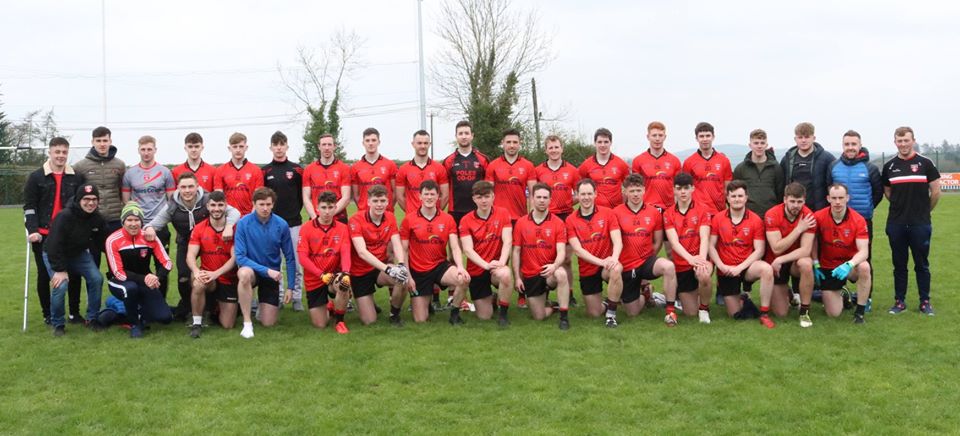 ACFL Div 1 Rd 2 – Killygarry 1-16(19), Lacken Celtic 0-07(7)
There was a large crowd in the Athletic Grounds to witness an impressive performance from our Senior men against Lacken. It was a beautiful afternoon to be out in the fresh air and our lads were sharp from the throw-in. Four points from play within ten minutes set the trend for the game. Enda Gallen started the scoring, then Martin Reilly popped over two followed by one from Oisín Brady who took up where he left off against Castlerahan the previous week. It was a hard-hitting match and Fergal Clarke was one of the victims when he had to go off injured after a heavy clash. Martin Reilly and Oisín Brady added further points to give us a six-point lead as half time approached. Then Martin Reilly bore down on goal after a fine flowing move. A goal looked on and Martin tried a little lob as the goalie advanced but it sliced off his boot to go narrowly wide. We had kept Lacken scoreless when the game entered first half injury time. They clocked up their first point but it was then that we were treated to the highlight of the game. Oisín Brady won a ball near the touchline almost on the halfway line. He headed straight for goal. His pace left defenders panting in his wake. He let loose as he passed the 21m line and his shot hit the back of the net. There won't be many better goals scored this season. Lacken pulled back another point just before the whistle for a half-time scoreline of Killygarry 1-06(9), Lacken Celtic 0-02(2).
Ryan Brady whose support play contributed to quite a few first half scores got us off the mark in the second half with an early point from play. Lacken's Ray Galligan had moved from goalkeeper to full forward and pulled back a point. Then Lacken scored a fabulous point from a sideline ball but Enda Gallen and Martin Reilly then picked off points each from play. Lacken's discipline then started to hurt them. They conceded frees frequently from rash challenges in scoring positions and they were duly punished. Martin Reilly popped over three of the frees, a couple of them from long range. As the game entered the last ten minutes we kept turning the screw with two more points from play by the impressive Enda Gallen as well as one from substitute Jack Cosgrave. Lacken did manage to score three points in this period but the impressive Oisín Brady had the last say when he popped over a point from play.
It should be said that just like last week against Castlerahan but for a different reason, we should not read too much into this game. It was an impressive display but Lacken could be a different prospect on another day, say championship. As one of the management team commented – it's just one game. The referee had his say too when he commented that the season is long!!
Killygarry: Tomás Kelly, Anselm Lovett, Eoin Smith, Conor Bates, Conor Connolly, Daryll McKenna, Padraig Cahill, Daniel Walsh, Paddy Lynch, Andy O'Brien, Martin Reilly (0-07, 3f), Fergal Clarke, Enda Gallen (0-04), Ryan Brady (0-01), Oisín Brady (1-03). Subs used: Daryll Dunne, Shane Cosgrave, Breen Reilly, Jack Cosgrave (0-01), Kieran Burns, Emmet Blayney.