U12 Girls Div 1 win over Lurgan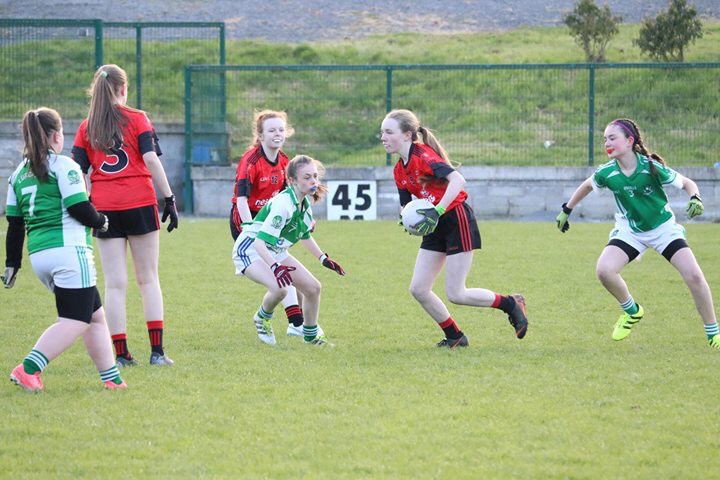 Team Name: Killygarry vs Lurgan
Grade: U-12 girls Spring League Division 1
Venue: Killygarry
Time & Date: Wednesday April 10th at 7:00pm
Team: Ella Reilly, Emma Kelly, Lauren Young, Dearbhla Brides, Aoife Glynn, Ailbhe Kennedy (0-7), Abby Mai McDermott, Abbie Lovett (0-3), Grace Kiernan, Aisling Kelly, Meabh O'Reilly (0-1), Subs Used: Mella Tuipilotu, Charlotte Wann, Eimear McCabe (0-1), Amelia White-Lynch.
Half time score: Killygarry 0-6   Lurgan 0-5
Full time score: Killygarry 0-12   Lurgan 0-6
Notes: On a great evening for football our Division 1 U12 girls opened their spring league campaign at home to Lurgan. Lurgan started brightly and registered 3 quick scores and 2 wides before our girls settled. Good defensive work by Lauren Young and two great interceptions by Ella Reilly were the key to keeping the score down in the early stages. As the quarter progressed we started to reach the pace of the game and two strong runs from Abbie Lovett resulted in 2 points. A good through ball released Meabh O'Reilly who was taken down and Ailbhe Kennedy made no mistake from the free in front of the posts. The quarter ended three scores apiece.
Lurgan started the second quarter strongly but again our defence held firm with Aoife Glynn marking tightly and key interceptions from Mella Tuipilotu and Emma Kelly. Working the ball out from defence we earned another free which Ailbhe Kennedy converted and then an excellent through ball released Eimear McCabe who beat the Lurgan keeper to finish to the net. Lurgan managed two scores and two wides before a final Killygarry score gave us a 6-5 lead at half time.
As the third quarter started Killygarry began to turn the screw and good work from Grace Kiernan and Dearbhla Brides meant that for the first time we had the majority of possession and strong running from Aisling Kelly almost resulted in another goal. A good block on the Lurgan full back by Charlotte Wann released Abby Mai McDermott whose goal bound shot was deflected out for a 45. Abbie Lovett and Ailbhe Kennedy both pointed to open up a 3 score lead going into the final quarter, 8-5.
We started the final quarter strongly and two strong runs by Ailbhe Kennedy resulted in two quick scores. Hard work from Amelia White Lynch released Meabh O'Reilly who made no mistake and we had a 6 score cushion. The teams traded two final scores before the referee blew the final whistle and Killygarry recorded a 12-6 win.
Report Credit: Barry O'Reilly