U13 Boys Div 1 and 5 teams are busy!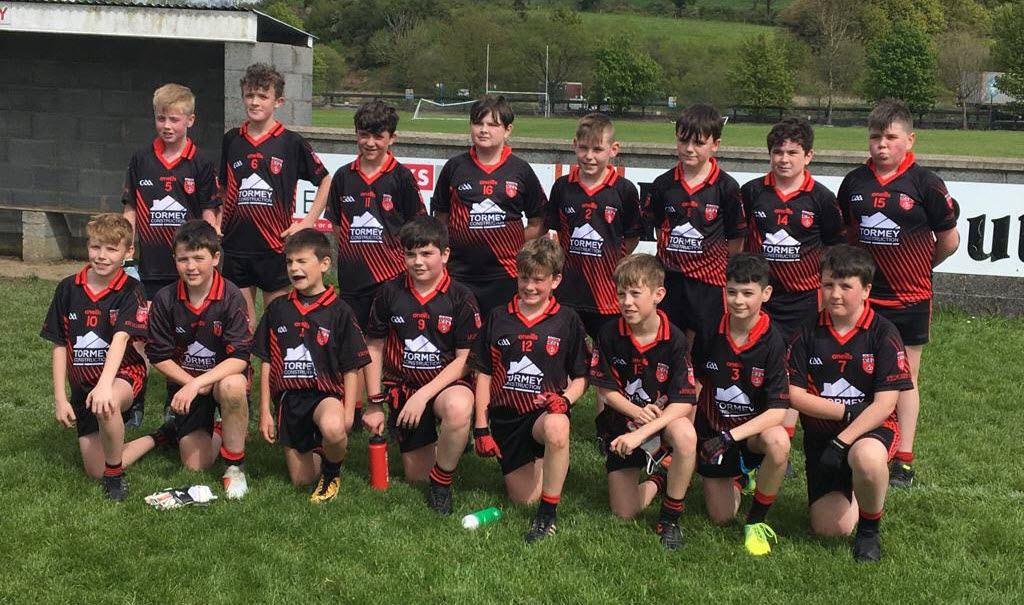 Our U13 boys teams have seen plenty of action over the last few weeks. Our Division 5 team played three games over the last two weeks, recording a win, a draw and a one point loss in that period, while our Div one team travelled to Carrick On Shannon for a challenge game against the Leitrim league winners before fighting to a superb draw with Mullahoran on Wed last. That match finished 3.18 a piece and with 42 scores in 60 minutes of football it was superb entertainment for all in attendance. Having survived an opening onslaught to lead by 5 at half time the boys found themselves four points down with time running out. Against all odds the lads worked the ball brilliantly up the pitch and a great team goal was finished to the new by Cillian Reilly. This in turn was followed up with a super free from the hugely influential Daragh Noonan to level matters. There was still time for late drama however with Mullahoran launching a last minute attack which finished with their full forward one on one with goalkeeper Oisin Caffrey. His right foot effort was superbly saved by Caffrey and from the rebound Adam Kelly and Ben Murphy combined to make a great block and clear the danger. The referee blew the whistle directly after with a draw a fair result for the tremendous efforts of both teams. The next match for this group is at home to Cuchulains on 28 May throw in at 730.
Killygarry Squad on the night: Oisin Caffrey, Mac Quigley, Ben Murphy, Dara Donohoe, Rossa Greaney, Declan Cosgrove, Josh O'Hagan, Sean McDermott, Daragh Noonan, Paddy Brides, Cillian Reilly, Daire Moran, Martin Shields, Freddie McGuigan, Charlie Fallon, Adam Kelly, Daragh Gilsenan, Jamie Lovett, Thomas Gilsenan
The month began with a setback for our Div 5 lads as they lost by the narrowest of margins to Ramor on a scoreline of 6.07 to 4.12. In an entertaining game the lads lead for long spells and outscored their opponents 16 scores to 13 but goals win games and a late Ramor major, stole the points on this occasion. The following Wed, 8 May, the lads literally went one better, playing out a 5.05 a piece draw with Castlerahan. Again some late scores denied us maximum points but that was put right three days later on 11 May when the lads were again back in action. Playing away to last years winners the boys established an early lead they never lost and finished up winning by double scores 2.12 to 1.06. We have 20 players elegible to play for this team which is regularly 11 a side games. All players saw action in each of the games and more important than results in this division is the improvement of the squad and the experience they gain from match day action. The boys will play a minimum of 10 games in this league competition which we hope is an enjoyable and beneficial experience for all.
Squad for the Games: Conor Lynch, Conan Dowdall, Aron O'Reilly, Killian Lynch, Jamie Lovett, Ryan Owens, Thomas Gilsenan, Daragh Gilsenan, Martin Shields, Charlie Fallon, Lucas Smith, Liam McMillan, TJ Brady, Adam Kelly, Brandon Tormey, Dylan Tormey, Dylan Wall, Adam Keith, Dallan Greaney and Leon Lynch.
19 May 2019 U13 League 2019 Division 5 Rd 6
Killygarry GAA Club/CLG Coill an Gharraí (7-8) v (6-13) Drumgoon
U13 Boys Div 5 play Cuchulainn's on Wed 22 May in Cuchulainns at 7.30pm.
U13 Boys Div 5 play Lavey on Saturday 25 May in Killygarry at 2pm.
U13 Boys Div 1 play Cuchulainn's on Tues 28 May in Killygarry at 7.30pm.