Seniors qualify for Championship Quarter-final in style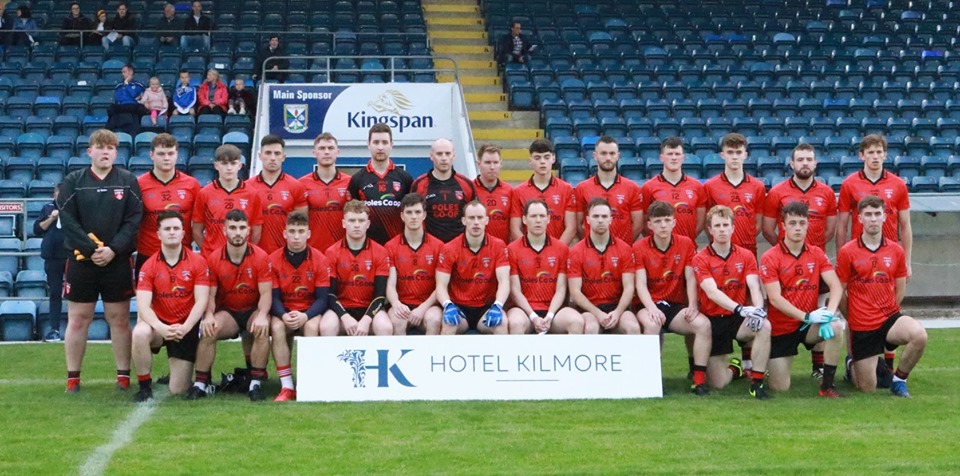 Sen Champ 2019 Rd 4 – Gowna 2-11(17), Killygarry 2-15(21)
It was crunch time in the Senior Championship last weekend and Killygarry knew that nothing less than a win against Gowna would be needed if they were to make the knockout stages. They produced the goods on the day with a very organised and effective display of football over the seventy minutes. Gowna had two wins coming into this game and were already in a better position than Killygarry to qualify before this game.
Ross Sheridan settled Killygarry nerves with a long-range point almost from the throw-in. Oisín Pierson equalised for Gowna from a free before Conor Smith pointed from play for Killygarry. Robbie Fitzpatrick equalised again for Gowna in the fifth minute. Killygarry were moving the ball swiftly and smoothly and had a great chance of a goal at the end of one of these moves when Danny Talbot's effort was snuffed out by the Gowna defence in the small square. Darragh Gannon then put Killygarry ahead with a point from play. Killygarry then lost talisman defender Padraig Cahill through injury to be replaced by Anselm Lovett. In fairness, the reshuffled backline settled into their task admirably. Conor Smith then sniffed out another goal chance which was pushed out for a '45. Killygarry stretched their lead with another long-range point by Ross Sheridan. There was a lull in the scoring until a pointed free by Martin Reilly got the scoreboard ticking over again to give Killygarry a three-point lead.
As the second quarter started, Gowna cut Killygarry's lead to the minimum with points from play by Cian Madden and Robbie Fitzpatrick (??). But Killygarry were totally dominant at this stage. Oisín Brady and Martin Reilly converted frees before Gowna pulled one back. Then as the game approached half-time, Killygarry's regular pressure on the Gowna full-back line paid dividends. A long ball in was well won by Martin Reilly who flicked it to Conor Smith. He rifled it to the net in the blink of an eye. Gowna hadn't even had time to recover before another ball into the full-forward position found Darragh Gannon who rounded a few defenders to find the net again. Gowna's Cian Madden pulled a point back from play but Killygarry were in the driving seat and led on a scoreline of Gowna 0-06(6), Killygarry 2-07(13) at the break.
Gowna started the second half strongly and converted two frees in the opening minutes, one each from Cian Madden and (??????). Darragh Kennedy made a great run through the middle from midfield and set up Conor Smith for a point. Cian Madden pulled one back from play but Killygarry then pushed on with points from Oisín Brady (free) and Martin Reilly. Darragh Gannon was the provider for Conor Smith to stretch Killygarry's lead to eight points midway through the half.
Gowna were thrown a lifeline when a ball into the penalty are bobbled about before it was poked to the net. Conor Smith who was a constant threat to the Gowna full-back line replied with a point but Gowna were showing some fighting spirit and pulled themselves further back into the game. Conor Madden who had been marked well by Conor Bates throughout the game managed to burst through for a goal after taking a lot of steps to leave just three points between the sides with about ten minutes still to play. Points from Oisín Brady and Conor Smith were matched by two converted frees from Cian Madden. There was still only a score between the sides but Conor Connolly who had defended valiantly throughout sprinted up along the wing and stroked over the final point of the game.
Killygarry will be happy with their performance and will be looking forward to their quarter-final encounter with Castlerahan who defeated them in Round 1 of the championship.
Well done to the full senior panel and management team who have worked so hard to prepare the team for this result. Anselm Lovett did very well when he came on for Padraig Cahill. Conor Connolly was back to his best after his recent illness. Daryll Dunne continued his excellent performances throughout this year's championship. Daryll McKenna was his usual solid self. Darragh Kennedy added another dimension with his tackling and running. Oisín Brady put in a man of the match performance in his role in the half-back line. Conor Bates did an excellent job man-marking Conor Madden. Ryan Brady imposed himself well and was very strong. Fergal Clarke and Ross Sheridan kept possession and distributed it very well. Martin Reilly led the team by example with his hunger and skills. Darragh Gannon and Conor Smith were a constant threat to the Gowna full-back line. The subs and the rest of the panel can take credit for contributing to this performance through all the training sessions that sharpened everyone up.
Killygarry: Paddy Galligan; Fergal Clarke, Padraig Cahill, Conor Connolly (0-01); Daryll Dunne, Daryll McKenna, Darragh Kennedy; Conor Bates, Ryan Brady; Danny Talbot, Ross Sheridan (0-02), Darragh Gannon (1-01); Oisín Brady (0-03, 3f), Martin Reilly (0-03, 2f), Conor Smith (1-05).
Subs used: Anselm Lovett, Andy O'Brien, Jack Cosgrave, Daniel Walsh.