Massive congrats to our Minor Ladies who are County Division 1 Champions!!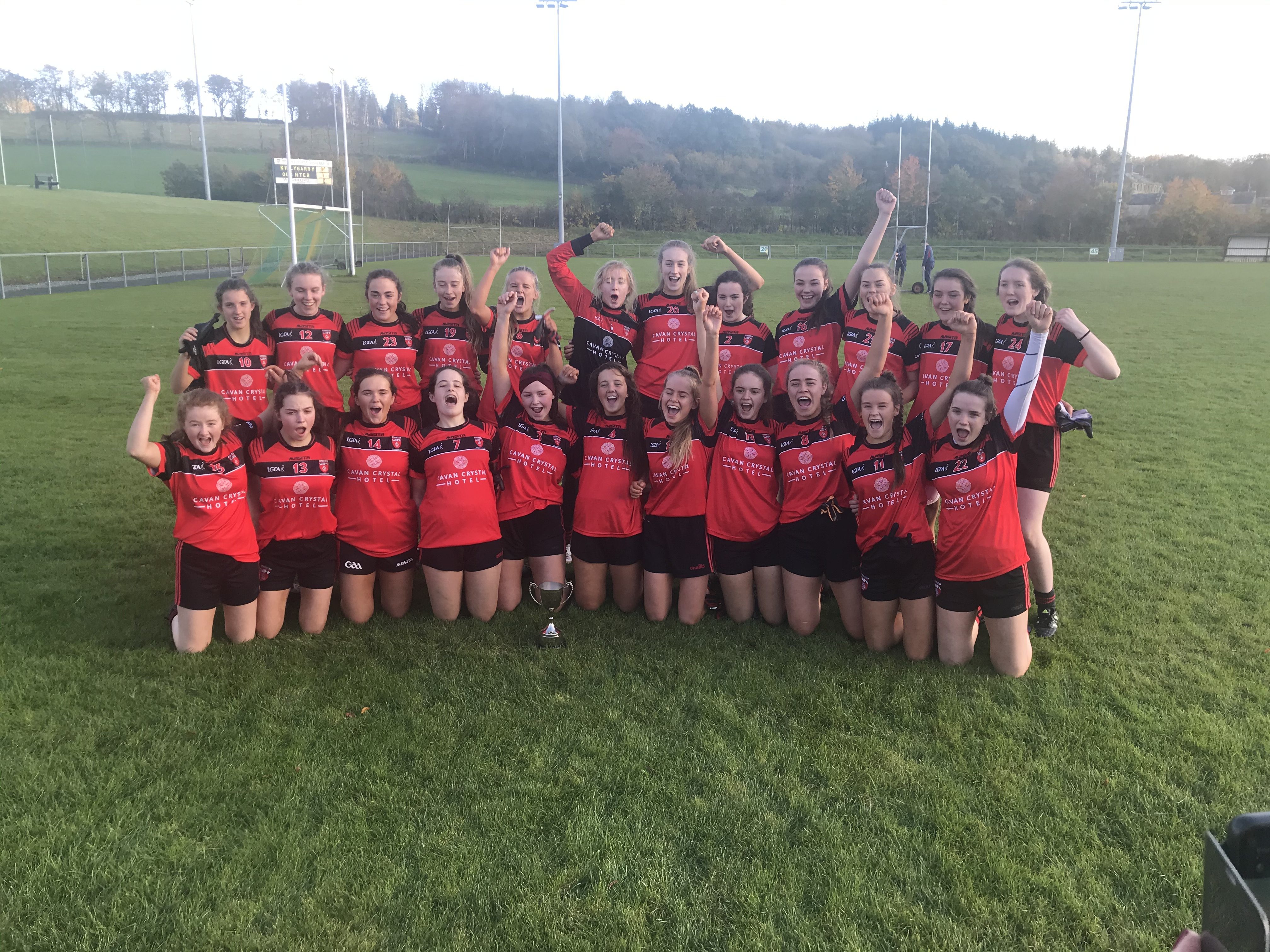 Minor Ladies Div 1 Championship Final – Killygarry 1-12(15), Lough Oughter Gaels 2-07(13)
The girls showed true grit and determination and thoroughly deserved to be crowned County Div 1 Champions at the end of this final played in Bawnboy last Sunday. It was always a considerable challenge to pit themselves against a combination comprising four clubs – Arva, Killeshandra, Drumlane and Arva. The girls started off strongly but they had to thank Joanne Reilly for an early save to prevent a Lough Oughter goal.  An Aisling Walls free and a fine point from Deirbhile Lynch set them on their way. Then in the sixth minute Aisling Walls pounced on a poor kickout. She burst through the heart of the defence and made no mistake in finding the net. Lough Oughter were stung into action and their first score was a goal in the ninth minute. Faith Galligan replied quickly with a fine long-range point to keep the momentum going.
But Lough Oughter started clawing their way back into the game and scored two points to narrow the gap before Joanne Reilly had to be on hand again with another fine save. Lough Oughter put the pressure on with another point before Deirbhile Lynch scored a point from play to give us a one-point lead. Then in the twentieth minute the Lough Oughter pressure paid off for them when they broke through for a goal. It was nip and tuck for the rest of the first half. The girls suffered a blow in the 25th minute when Clodagh Kennedy who was having a fine game had to be substituted due to a shoulder injury. Her replacement Emma Comiskey slotted in nicely to a slightly reshuffled team. Our defence stood solid as a rock to deny Lough Oughter any more scores and our attack fought like tigers to try and grab scores at the other end. The scoreline at the interval was Killygarry 1-04(7), Lough Oughter Gaels: 2-03(9).
Our girls drew first blood in the second half with an Aisling Walls point from a free. Lough Oughter replied with a point but then Emma Comiskey slotted over a point after some very patient build-up play between the midfield and forwards. Lough Oughter got another point and Joanne Reilly had to pull off two saves in quick succession. These saves kept us in the game and were crucial as the game progressed. Scores were at a premium during this period and we were also lucky when a Lough Oughter shot rebounded off a post. Shortly afterwards Faith Galligan was very unlucky not to get a goal when a well-worked move ended with her shaving the outside of a post. Lough Oughter scored another point but this was cancelled out when Aisling Walls converted a free. Lough Oughter held a two-point lead as the game entered the last quarter.
Our girls' grit and determination was the winning factor during this period. The defence limited Lough Oughter to a point and our girls scored four points. Kaioni Tu'ipolotu typified the spirit of this squad when she went on a run up the wing, breaking tackles and finished the move off with a fantastic point. The defence were under pressure again for the next few minutes but they were quick into the tackle again and again, broke up attacks and snuffed out everything that was thrown at them. Kaioni Tu'ipolotu was creating havoc and when she was fouled on the 21m line Aisling Walls sent over the equalising point from the free. Almost immediately Emma Comiskey scored a fine point under pressure to give us the lead for the first time since the early part of the game. Lough Oughter equalised but our girls had the bit between their teeth. Lough Oughter couldn't match their hunger and Ally Cahill and Deirbhile Lynch scored the points which gave us the championship win at the final whistle.
It was a proud moment for Amy Galligan as she stepped onto the podium to receive the trophy from county player Sinead Greene. Amy also spoke very well when she congratulated everyone who had contributed to this great win. There was also a great cheer when Kaioni Tu'ipolotu was named player of the match and she stepped up to the podium to receive her award. Congratulations to all players in the squad, the management team, parents and supporters on a brilliant win.
Killygarry Squad: Joanne Reilly, Maria Lovett, Amy Galligan, Ava Shiels, Clodagh Kennedy, Gráinne Cahill, Eimear Kennedy, Dearbhla Brady, Ally Cahill (0-01), Aisling Walls (1-04), Deirbhile Lynch (0-03), Kaioni Tu'ipolotu (0-01), Emma Comiskey (0-02), Faith Galligan (0-01), Emer Cahill, Shauna Gilsenan, Maeve Young, Katie Sheanon, Aoibheann Morrisson, Aoife Lovett, Emma Smith-Delaney, Katie Lynch, Keelin Burke, Sophie Smith.