Minor Ladies win thriller to go through to Ulster SF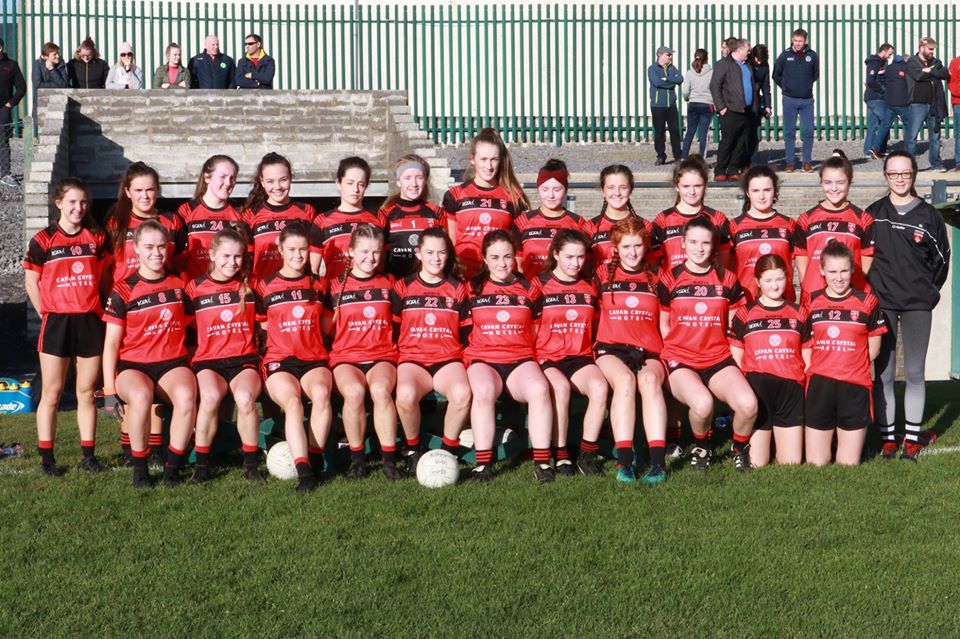 Ulster Minor Championship QF – Aodh Rua (Donegal) 3-09, Killygarry 4-07.
Aodh Ruadh welcomed Killygarry to Ballyshannon for the Ulster Minor quarter-final on a bright autumn afternoon. It was to prove a massively entertaining game for the large crowd in Father Tierney Park, with our girls prevailing in the end by the bare minimum. Killygarry came with a whirlwind start which left the Ernesiders reeling. With just 1 minute 40 seconds on the clock we were 1-1 to the good, the lethal Aisling Walls hitting the back of the net and Faith Galligan pointing. A second goal came from a high dropping ball by Aoife Lovett when Faith Galligan got the final touch. It sneaked in at the right hand post despite Bridín Maguire showing huge bravery to try to get down and make the stop. Gráinne Maguire opened Aodh Ruadh's account, drilling over a smoothly taken shot ten minutes in. That was followed a minute later by a smart clipped effort from Caoimhe Keon. Aodh Ruadh looked to have settled but Killygarry attacked again from the kick out and had the ball in the net courtesy of Aoife Lovett once more to make it 3-1 to 0-2 with 12 minutes gone. It was at this point that Ballyshannon started to get a better grip on matters with Caitlin McGarrigle beginning to get the measure of Aisling Walls.
The sides swapped frees with Aoibhínn McGarrigle splitting the posts for Aodh Ruadh before Aisling Walls answered in kind for the Killygarry girls with a cracking free of her own. Killygarry's Aoife Lovett then engineered a fine point from play. Aodh Ruadh, however, got the perfect response. Lucy McGlynn went on a defence-splitting run before firing to the net with 21 minutes on the clock. A minute later and Killygarry repaid that in kind with their fourth goal of the game, a shot from distance by Aisling Walls dropping into the net. Despite that, there was no doubt that Aodh Ruadh were now playing much closer to their best football and they finished the half with a flourish. First Cáit Gillespie hit a well-taken point on 24 minutes. Then deep into first-half injury time Orla Keon divided the posts with an important point to leave the interval scoreboard reading Aodh Ruadh 1-05 Killygarry 4-03.
The Ernesiders brought their steadily improving form into the second half and were rewarded with the perfect start. Just over a minute in Cáit Gillespie came with one of her trademark driving runs and smashed a stinging shot past Joanne Reilly. It had to be good, as the Killygarry keeper was in top form right through this Ulster quarter-final. Seconds later Aodh Ruadh had the ball in the net again, this time it was Orla Keon dispatching to the net. When Cáit Gillespie found the range with a beauty of a shot on 35 minutes it was suddenly all square Aodh Ruadh 3-6 Killygarry 4-3. A minute later Aoibhínn McGarrigle chipped over a free to give Aodh Ruadh a lead which had looked very unlikely just 15 minutes earlier. Joanne Reilly then pulled off another super save to deny Aodh Rua a goal. The girls  rallied well and a score from play by Kaioni Tu'ipolotu was followed by an Aoife Lovett point and an Aisling Walls free to put us back into a two-point lead. Gráinne Maguire landed an ice-cool free on 44 minutes to make it a one-point game.
The last 15 minutes were enthralling to watch, with both sides giving their absolute all. The exhaustion of a breathless 45 minutes of football was starting to take its toll with both sides passing up good scoring chances. On 49 minutes Killygarry clipped over their last score from play off the boot of Aisling Walls when she was under a lot of pressure to make it 3-8 to 4-7. Aodh Ruadh answered that three minutes later with another Gráinne Maguire free. Following another attack the frantic Aodh Ruadh support could only watch in agony as the ball trickled along the goal line only to see a critical Killygarry clearance averting a goal. Up the other end Bridín Maguire snuffed out a number of chances which could have killed the game in Killygarry's favour. Neither side could add to their tally though and so, after almost 70 minutes of intense, gutsy football, it was Killygarry who prevailed by a point.
Aodh Rua were worthy opponents and all reports are that it was a great display from both sides of all that's good about football. Aodh Rua were very gallant in defeat and wished Killygarry the best of in the remainder of the Ulster series. They said that our girls played the game in a great spirit and represented our county with real class.
Killygarry Squad: Joanne Reilly, Maria Lovett, Amy Galligan, Ava Shiels, Gráinne Cahill, Eimear Kennedy, Dearbhla Brady, Molly O'Meara, Ally Cahill, Aisling Walls (2-03, 2f), Deirbhile Lynch, Kaioni Tu'ipolotu (0-01), Emma Comiskey, Faith Galligan (1-01), Emer Cahill, Aoife Lovett (1-02), Clodagh Kennedy, Shauna Gilsenan, Maeve Young, Katie Sheanon, Aoibheann Morrisson, Emma Smith-Delaney, Katie Lynch, Keelin Burke, Sophie Smith.
Report Credit – Aodh Rua's report and David Lovett's Tweets combined