Crubany N.S. in Cuman na mBunscol Final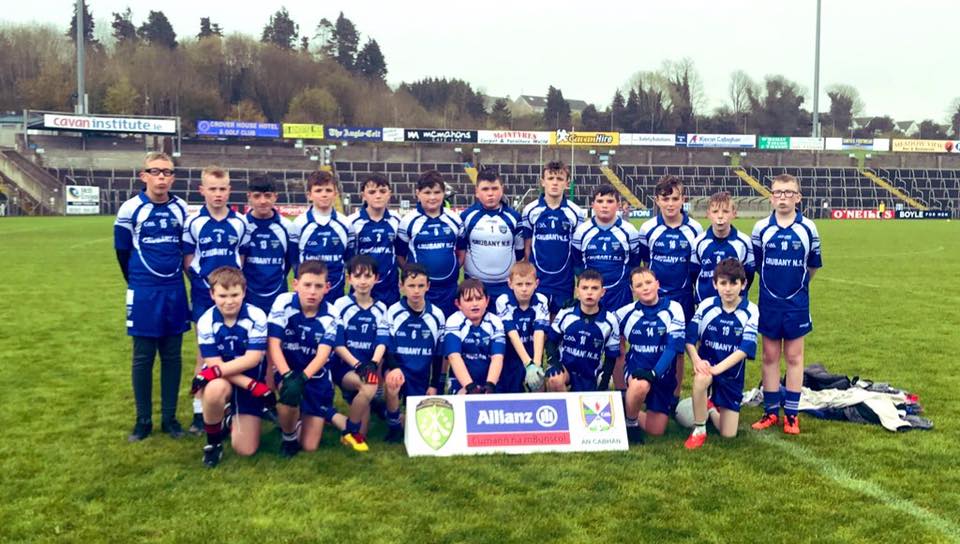 Cuman na mBunscol Division 2 Final – Crubany NS 0-7(7), Butlersbridge NS 1-7(10)
The boys from Crubany NS put in a gallant effort in their Division 2 Cuman na mBunscol final encounter with neighbours Butlersbridge last Saturday in Kinspan Breffni Park. Charlie Fallon opened the scoring with a fine point but Butlersbridge hit back with two points. Paddy Brides then pounced on a bad kickout and was unlucky when his attempted lob didn't end up in the net. Paddy reacted well to the disappointment by scoring the next point from play to draw the sides level. Butlersbridge were in control for the rest of the first half. They scored three more points and as the game approached half time they broke through for a goal which put daylight between the sides to leave the half-time score Crubany NS 0-2(2),  Butlersbridge NS 1-5(8).
Crubany started the second half very strongly. They were tackling well all over the field and passing the ball accurately. They created a great goal chance early on but were unlucky to see the effort go narrowly wide. Paddy Brides scored a great point from a '45 and then Charlie Fallon knocked over a free to narrow the gap between the sides. At the other end, the defence was standing firm with T.J. Brady pulling off a string of fine saves throughout the second half to keep Crubany in contention. Paddy Brides and others were also putting in some great block tackles to help the Crubany cause. Charlie Fallon pointed another free to narrow the gap to three points. Unfortunately, Crubany could not narrow the gap any further. Both sides traded points with the Crubany scores coming from a point each by Paddy Brides and Charlie Fallon from frees. The Crubany boys piled the pressure on and mounted attack after attack but the Butlersbridge defence stood firm. Everyone agreed that it was a great game of football which was a credit to both teams. The Crubany boys can be proud of the display of defensive and attacking skills that they put on for their parents and many local supporters.
Crubany squad: T.J. Cawley-Brady, Darragh Gilsenan, Conan Dowdall, Arón O'Reilly, Ryan Owens, Cormac Brides, Paddy Brides (Joint Capt.) (0-3), Thomas Gilsenan, Jamie Lovett, Adam Keith, Charlie Fallon (Joint Capt.) (0-4), Sam Lynch, Nikita Gridjusko, Dallan Greaney, Daniel Mooney, Cody Pluck-McCusker, Conor Mooney, Tom Heaslip, Darragh Smith-Reilly, Christian Costello, P.J. Levingstone, Arin Yaylagul.