U13s put up brave fight in Div 5 Championship Final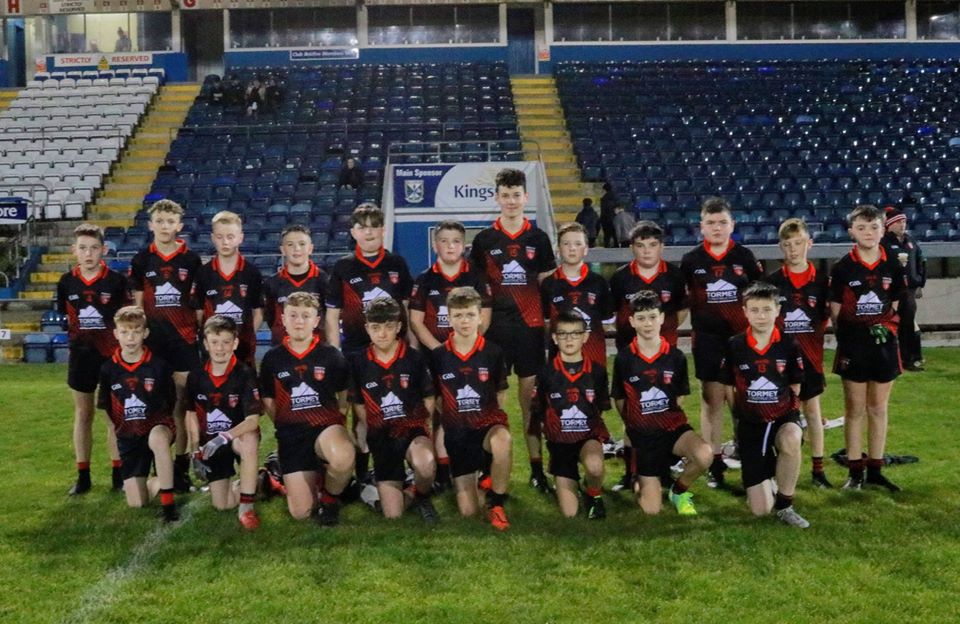 U13 Div 5 Championship Final – Killygarry 2-10(16), Mullahoran 4-10(22)
It was a great occasion for our U13 boys to play a championship final on the hallowed turf of Kingspan Breffni last Tuesday in front of a great crowd who supported them every step of the way. Mullahoran hit the ground running with two early points from play but our lads settled after a few minutes. Charlie Fallon calmed the nerves with an early pointed free. The next few efforts went narrowly wide and goalie Conor Lynch had to be on his toes to block a goal-bound effort. Mullahoran pointed a free from the recycled ball and then added another from play to stretch their lead to three points. The lads knuckled down at that stage. There were some fantastic blocks from the backs and all of them were moving the ball more smoothly and slickly from end to end. Ryan Lynch, Paddy Brides (2) and Charlie Fallon all scored great points from play. Paddy's first point was intelligently worked from a short free taken by Charlie Fallon. Paddy was then unlucky that a great goal effort was brilliantly saved by the goalie. The lads continued to keep the pressure on and Ryan Lynch popped over a great long-range effort to put us two points in front.
The lads were creating quite a few goal chances but weren't having any luck until Paddy Brides got the opening goal as a reward for the constant pressure. Unfortunately, Mullahoran replied immediately with a well-worked goal to bring us back to earth. The lads didn't let that upset them. Conor Lynch found Paddy Brides brilliantly from the resulting kickout. Paddy moved the ball quickly and passed it on to Charlie Fallon who headed straight for goal and popped over a great point. Mullahoran pulled back a point from play but Charlie Fallon was on fire. He picked up a pass about 20m out and burst through to blast the ball to the net. We were five points clear but we were unable to stop Mullahoran from scoring another well-worked goal just before half-time. The scoreboard at the break showed Killygarry 2-07(13), Mullahoran 2-05(11).
Charlie Fallon gave us the perfect start to the second half with an early point from play. Our lads were still defending very well but they were having to deal with a few very nifty and skilful forwards as well as a strong midfield. Mullahoran broke through for an early goal to draw the sides level. They took the lead with the next point from play. Charlie Fallon was having a great game and five minutes in he tore in on a solo run from the wing and let fly but the goalie got fingertips to it to deflect it over the bar. Mullahoran got through for their fourth goal to give them a three-point lead which they never lost. Our lads did their utmost to break down the Mullahoran defence but their luck was out. T.J. Brady had a goal effort well saved. Charlie Fallon converted a free ten minutes in but Mullahoran were playing very well at this stage and despite gallant efforts from our lads they couldn't break down the Mullahoran defence. Conor Lynch pulled off another brilliant save as the game entered the final minutes but Mullahoran scored three more points without reply to earn a deserved championship title.
The lads can be very proud of their efforts. They displayed plenty of skill and spirit throughout the game. It was a joy to watch their blocking, tackling, fielding, soloing and scoring. They provided plenty of entertainment for the many Killygarry supporters who were there to cheer them on. The future looks good for the Red and Blacks!
Killygarry squad: Conor Lynch, Killian Lynch, Brandon Tormey, Ryan Owens, Lucas Smith, Thomas Gilsenan, Paddy Brides (1-02), Charlie Fallon (1-06, 2f), Liam McMillan, Darragh Gilsenan, Jamie Lovett, Conan Dowdall, Ryan Lynch (0-02), TJ Brady, Adam Keith, Dallan Greaney, Dylan Tormey, Dylan Wall, Aaron O'Reilly, Leon Lynch.