Hard luck ladies – you did us proud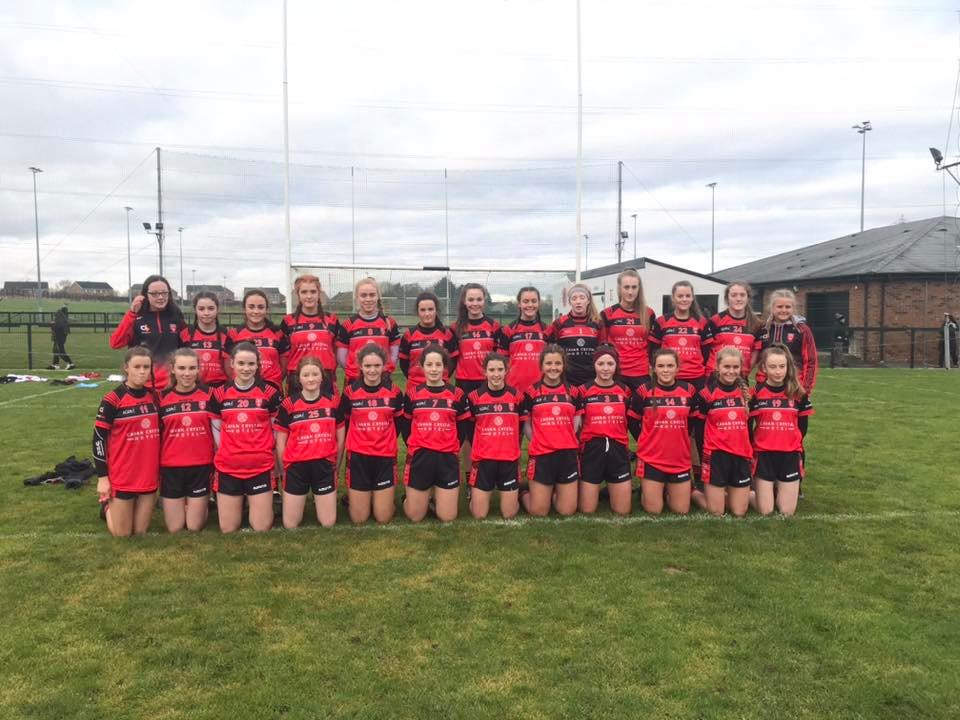 Ulster LGFA Minor Championship Final – Bredagh (Down): 5-06(21), Killygarry 1-09(12)
Last Sunday was a wonderful occasion for the Club and our Minor ladies team as they took to the field in the Club's first ever Ulster Final at St. Paul's GAC in Lurgan, Co. Armagh. Going by the level of skills and commitment shown by this wonderful group of players and management we are confident that it won't be their last. There was also a great crowd of supporters who travelled the long distance to Lurgan to cheer on the ladies in Red and Black.
The team had to be reshuffled to deal with the absence of Gráinne Cahill who was a late withdrawal through illness. Aoibheann Morrison got the nod and acquitted herself well along with the other members of the reshuffled defence. Neither defence could be breached in the first seven minutes but then Bredagh knocked over three points from play in quick succession. Joanne Reilly made one of a string of wonderful saves a few minutes later but she was blameless when Bredagh broke through for two quick goals with just ten minutes gone. It was a lead which a team of Bredagh's skills wasn't going to let slip easily. Our ladies came more into the game at this stage starting with an Aoife Lovett point from play. Kaioni Tu'ipolotu had a goal effort saved but then Bredagh took the wind out of our sails again when they broke through for another goal. We were getting a better foothold in the game and kept Bredagh scoreless for the remaining twelve minutes of the second quarter. Joanne Reilly stopped another certain goal and when the ball was moved quickly up the field Aisling Walls broke through the Bredagh defence and planted the ball firmly past the goalkeeper for a great team goal. Aisling added another point from play to leave the half-time score Bredagh 3-04(13), Killygarry 1-02(5).
The ladies started the second half showing the same fighting spirit which had kept Bredagh scoreless for the last twelve minutes of the first half. Joanne Reilly pulled off three more fine saves which were the foundation for two converted frees by Aisling Walls to narrow Bredagh's lead to six. They kept probing but on numerous occasions they weren't getting the breaks. Both sides swapped points with our scores coming from a fine point by Emma Comiskey who had come on as a substitute and an Aisling Walls free. In between, Bredagh broke through for their fourth goal. Bredagh couldn't shake us off but every time we started to make inroads into their lead they always seemed to find that goal to undo all our good work. We never gave up in any position all over the field. Joanne Reilly continued to pull off saves. The backs fought like tigers to thwart a very effective Bredagh forward unit. The midfield competed for every ball and the forwards kept trying to breach a solid Bredagh defence. Faith Galligan was unlucky to see a shot hit the crossbar. Aisling Walls converted a free and Kaioni Tu'ipolotu broke through for a fine point from play to leave the gap at six again. Bredagh pointed at the other end but we kept looking for the goal which just would not come. Deirbhle Lynch was next to have her goal effort saved. Then Aisling Walls pointed from play for our last score of the game. Bredagh had the last word when they broke through in injury time for their fifth goal of the game.
The team can be very proud of what they have achieved throughout this campaign in both Cavan and Ulster. There's a great bond between them and hopefully that will keep them together for another campaign in 2020. The skill and discipline that they showed in the final and all their matches was a joy to behold. Well done to all the players and management.  It should also be mentioned that the talents of some of these ladies isn't in football alone. Aoibheann Morrison, Maeve Young and Gráinne Cahill qualified for the instrumental section in the Scór County Final in Stradone on the same day as the final. They came all the way back from Lurgan for that competition too to play with their groups. Well done to everyone.
Killygarry Squad: Joanne Reilly, Maria Lovett, Amy Galligan, Ava Shiels, Gráinne Cahill, Eimear Kennedy, Dearbhla Brady, Molly O'Meara, Ally Cahill, Aisling Walls (1-06, 4f), Deirbhile Lynch, Kaioni Tu'ipulotu (0-01), Emma Comiskey (0-01), Faith Galligan, Emer Cahill, Aoife Lovett (0-01), Clodagh Kennedy, Shauna Gilsenan, Maeve Young, Katie Sheanon, Aoibheann Morrisson, Emma Smith-Delaney, Katie Lynch, Keelin Burke, Sophie Smith.