Killygarry U-14 Girls Unbeatable in 2016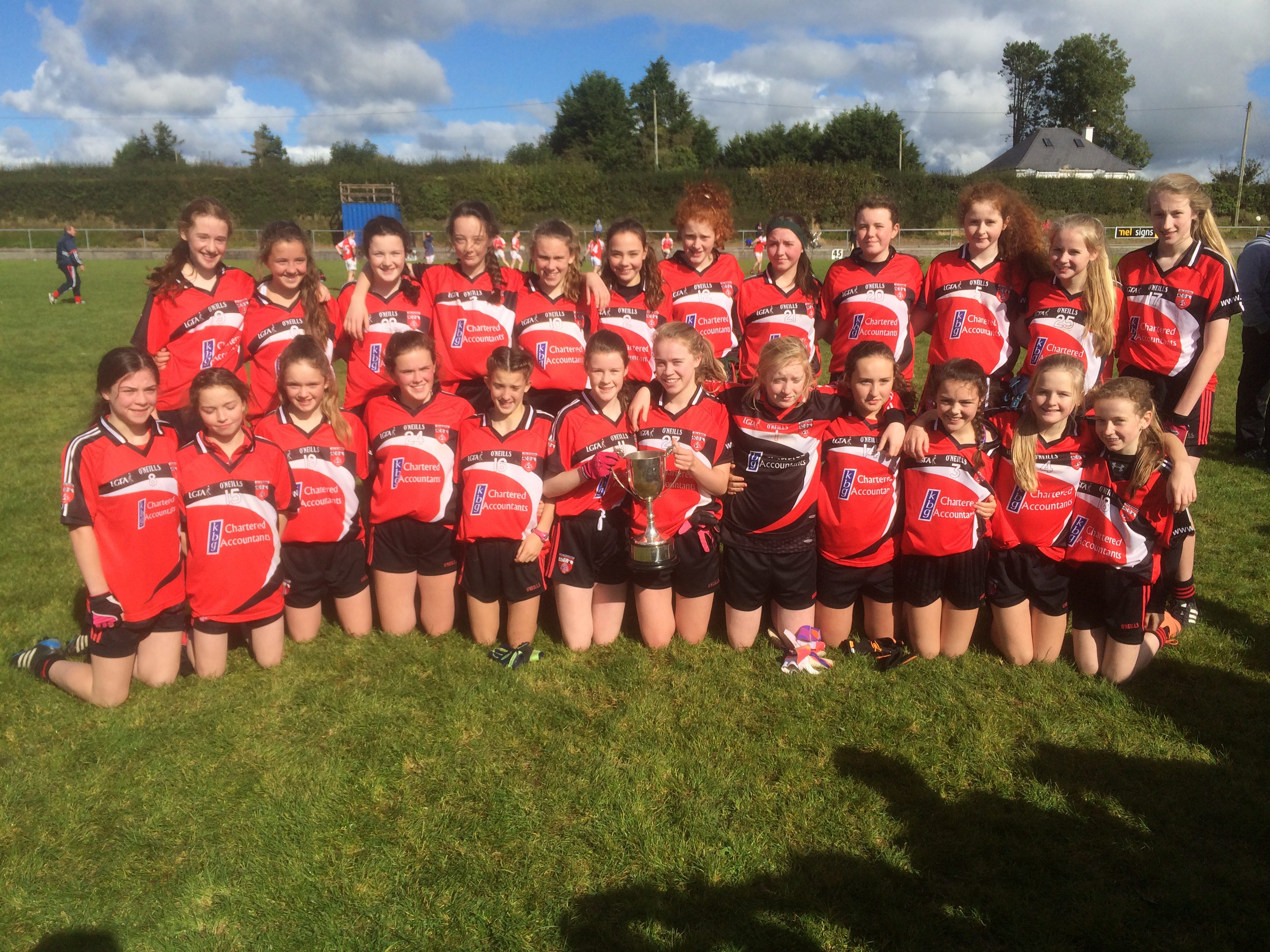 On Saturday 1st Oct in windy but dry conditions the All-Ireland Féile Girls Under-14 champions Killygarry met old rivals Crosserlough. Crosserlough were going for a clean sweep of juvenile titles, having already collected the silverware for Under-12, Under-13 and Under-16 girls Div. 1 titles in 2016. Killygarry were hot favourites, having won the league earlier in the year and the All-Ireland Féile competition in June. However, Crosserlough were the one team that probably had the armoury to dislodge a team who have gone through 2016 unbeaten – some 26 games!
The game started tensely with both teams adopting a defensive approach and scores were difficult to obtain. The Killygarry lassies had the majority of possession but many wrong options were chosen to leave the score-line very tight. Scores from Deirbhile Lynch and joint captain Aisling Walls helped settle the nerves. The extremely impressive half-back Cara Thomson also got in on the act. Crosserlough, with Kate Smith and Lorna Reilly always looking dangerous, were taking their opportunities as they arose. Big players love big occasions and Aoife Lovett, when moved in on the edge of the square late in the first half, proved again that she is in this category, rattling over two points when they were most needed. The busy Kaoini Tuipilatou was giving the Crosserlough fullback line lots to think about as the tireless work of Killygarry's other joint captain Ally Cahill was rewarded before half time with another point. The half-time score was Killygarry 0-6, Crosserlough 0-3 and all was to play for.
The second half started with a Crosserlough onslaught on the Killygarry goal. The Kilnaleck girls were very unlucky not to get a goal. They were being driven on by the hardworking Ciara Boylan, Atlanta Lovett and Christina Charters to mention but a few. It was not looking great for the favourites who were having to dig deep. But with a defensive rock built around Ava Sheils and Gráinne Cahill in the full back line, goals were not going to be conceded easily. The half-back line marshalled by Maria Lovett, ably assisted by Clodagh Kennedy and Cara Thomson were making shots on target, let alone scores, virtually impossible. The Killygarry midfield of Amy Galligan and Eimear Cahill worked tirelessly throughout and were always on top of their game. The game turned on 40 minutes after Killygarry had withstood some serious pressure. Joanne Reilly, ever the impressive keeper, had just watched a rasper of a shot fly wide on her left side. It was as if a switch was turned on with the Killygarry forwards. Five unanswered points by Aisling Walls were followed by an Aoife Lovett goal to leave the game as a contest over. The ever goal hungry Faith Galligan got in on the act with one of her own. The game finished with a late goal for Crosserlough but the league and championship double was Killygarry's on a score line of 2-13 to 1-5. Impressive replacements Claudia Burke, Grace Smith, Mollie O'Meara, Emma Comaskey and Alex Brady showed when introduced that they are equally as good as the starting 13. On the day there were some more squad members who when required during the campaign and earlier were impressive. However, they didn't feature in this game but are equally as important team members – Shauna Gilsenan, Katie Lynch, Dearbhla Brady, Aoibheann Morrison, Aisling Cahill, Annabel Fitzpatrick and Maeve Young. Well done to Killygarry – four competitions in 2016 at Under-14, four titles.
Killygarry: Joanne Reilly, Ava Sheils, Annabel Fitzpatrick, Gráinne Cahill, Clodagh Kennedy, Maria Lovett, Aisling Cahill, Alex Brady, Kaoini Tuipilatou, Cara Thompson (0-1), Aisling Walls (0-7, 2f), Ally Cahill (0-1), Grace Smith, Amy Galligan, Faith Galligan (1-0), Dearbhla Brady, Shauna Gilsenan, Deirbhile Lynch (0-1), Aoife Lovett (1-3), Mollie O'Meara, Claudia Burke, Aoibheann Morrison, Katie Lynch, Maeve Young, Emma Comaskey and Emer Cahill.