Under 14 Div 2 County Champions!!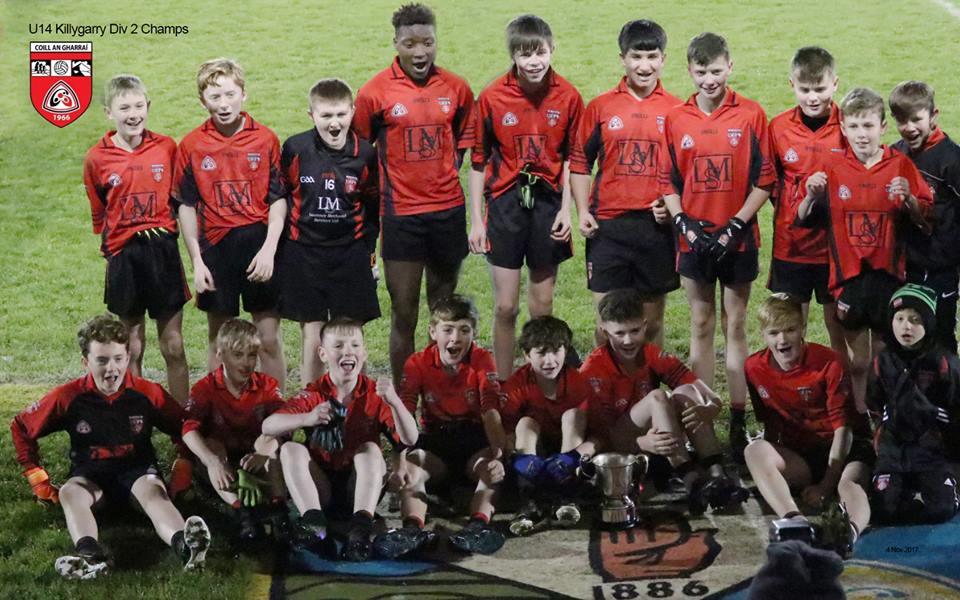 Congratulations to our Under 14 Div 2 team who are county champions after beating Cavan Gaels 4-07 to 0-07 in Breffni Park on Saturday night. It was a well-deserved win with fantastic performances all over the field. A special thanks too to Enda and Sinead Breslin who sponsored food and refreshments for the team, parents and supporters after the game in Killygarry Community Centre.
Cavan Gaels 0-07, Killygarry 4-07
This final had added spice to it in that it was a local derby with each team wanting the bragging rights at the end. Things looked ominous for us in the early stages when Cavan Gaels clocked up five points without reply in the first thirteen minutes. Our lads were finding it hard to settle but the Gaels probably felt they had a point to prove, having lost the league encounter earlier in the campaign. We had three wides in that period before Darragh Lovett settled the nerves with a point from play. A few minutes later, Lovett nipped in from the wing and lobbed in a perfect fist pass for Richard Ayredele to punch to the net. We were back in the game but Oscar Brady had to step in a minute later to push a piledriver against the post and out for a '45 – a fantastic save! It was a real morale-buster. Within a minute we had set up another attack and Richard Ayredele was pushed in the back in the square for a penalty. Cool as a cucumber, Kevin Lovett stepped up and found the net with an unstoppable spot-kick. The Gaels pulled one point back but it was one-way traffic for the rest of the half. However, we only earned one point by Darragh Lovett from that domination, shooting four wides. The half-time score was Cavan Gaels 0-06, Killygarry 2-02.
We made a perfect start to the second half when Kevin Lovett intercepted a ball at centre-half back. The ball was moved slickly up the field. Lovett followed up and powered his way through to place a pile-driver into the top corner of the net from about 20 yards. The Gaels tried to get a foothold in the game but they shot a few efforts wide. Darragh Lovett added another point from play and Kevin Lovett converted a '45 to stretch the lead. Lovett had been getting the range from previous '45 efforts earlier in the game. Darragh Lovett then turned his man and stretched his legs to slot past the keeper. Killygarry were in full control heading into the final quarter. We could afford to be wasteful but Darragh Lovett added two more points in this period to stretch our lead before the final whistle.
After a cagey start, it was a great performance from every player to lift the cup. The defence was immense. Adam Butt kept the shackles on the Gaels' danger man throughout the game. Kevin Lovett swept up anything dangerous that came our way. Gabriel Cosgrave showed great judgement and skill along with Dylan Glynn. Nik Serga marked someone twice his size but he had the measure of him within minutes of the start. Richard Ayredele's persistence and power set up a lot of scoring attacks. Mark McDermott showed silky passing skills as well as shrugging off markers throwing dummies like they were second nature to him. Although Darragh Lovett was star of the show upfront, Cian Keaney and Neil Reilly weren't far behind, showing a clean pair of heels to their markers from time to time. Shane McCabe, Cillian Moran and Darragh Carty were also major contributors to a potent attack.
Squad on the day – Oscar Brady, Adam Butt, Gabriel Cosgrove, Jamie McDonald, Kevin Lovett (2-01, 1pen, 1f), Dylan Glynn, Richard Aryodele (1-00), Cillian Moran, Neil Reilly, Shane McCabe, Nik Serga, Cian Keaney, Darragh Carty, Gerry Murphy, Darragh Lovett (1-06, 1f), Mark McDermott, Callum Kelly.