Ladies are Junior B County Champions 2019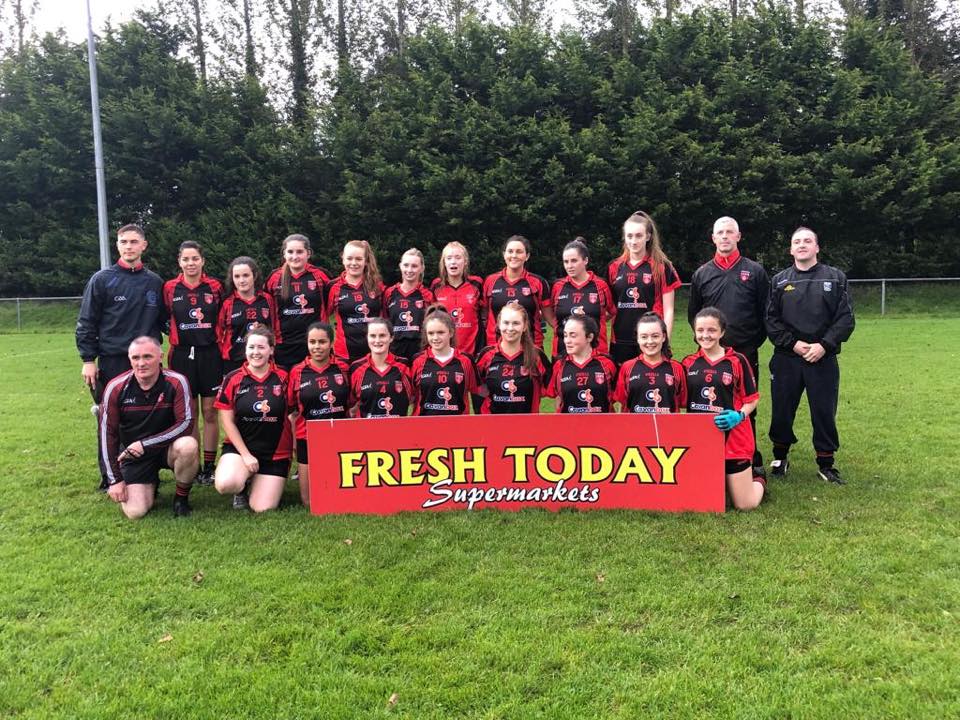 Ladies Junior B Championship Final – Cavan Gaels 5-05(20), Killygarry 6-10(28)
After all the good weather we had this past week, the heavens opened before the game in Ballymachugh on Saturday afternoon. This made conditions very difficult underfoot but both teams put on a great display of football to entertain the small crowd who braved the bad weather. In fairness, the rain held off during the match which probably helped.
The Gaels got off to a flying start with a goal and a point within two minutes. Our ladies were getting plenty of possession but were unable to convert it into scores until Paige Conroy got us off the mark with a point in the sixth minute. A minute later, we were awarded a penalty which Emma Comiskey slotted into the corner of the net to draw the sides level. But the Gaels got into their stride again. They smacked a shot off the crossbar and kept us scoreless for the next ten minutes during which they scored 1-02. Gráinne Smith was a constant threat and replied with a point but then had to go off injured to be replaced by Aoife O'Shea who brought her own set of ball-winning skills into play for the remainder of the match. The Gaels, however, added two more goals to reinforce their domination of the first half and give themselves a commanding ten-point lead. But our ladies found their mojo as the game approached half-time. Leanne Sheridan made the best of a bad clearance and rifled the ball to the net. Emma Comiskey followed up quickly with a point from play and Katie Lynch was unlucky to see her shot cannon off the crossbar in almost the last kick of the half. Half-time came too soon as our ladies trailed by a scoreline of Cavan Gaels 4-03(15), Killygarry 2-03(9).
We got a few lucky breaks when the Gaels failed to convert a number of goal chances early on in the second half. Katie Lynch kept us in the game with a point from play during this period. But our ladies knuckled down and weathered the storm. The couple of substitutions had provided fresh legs in midfield and the forward line. Emma Comiskey converted a free and a minute later she was on the end of a brilliant through ball from Aoife O'Shea which she rifled to the back of the net. Eimear Nulty then scored the equalising point. She had come on as a substitute and was winning plenty of ball around the '45 line. She was also making her last appearance before heading for Australia and she was captaining the side for this final.
Killygarry managed to edge it in the last quarter of the game. Emma Comiskey converted another free to put us in the lead for the first time before Katie Sheanon shook off her marker and despatched the ball to the back of the net to extend our lead. The Gaels did pull a goal back and Joanne Reilly had to pull off a great save to deny them another but the Gaels couldn't get that critical equalising score. Luckily a square ball call also went our way and as the game entered the last five minutes, Emma Comiskey showed a clean pair of heels again to score her third goal of the game. The Gaels got two points from play which could have been goal chances but Leanne Sheridan responded at the other end with two good points from play to keep our four-point lead. Emma Comiskey capped off her Player of the Match performance with another goal and a point in the dying minutes of injury time to give us a sweet victory. It was a splendid game of football from both sides, considering the conditions.
There were outstanding gutsy performances throughout the field. Joanne Reilly has already been mentioned but she was well-protected by Ava Shiels who had a great game. Orla O'Brien, Tara Gannon and Eimear Kennedy broke up a lot of attacks as well and were ably supported by Maria Lovett and Ciara Grogan. Katie Lynch was immense in midfield and Emma Tierney was the link between defence and attack with her pace and skill on the ball. Emma Comiskey had a brilliant game and Caitlin Dowdall, although she didn't score, was very comfortable and strong on the ball and set up a lot of scores. The same could also be said for Aoife O'Shea. Katie Sheanon, Leanne Sheridan and Paige Conroy were also on hand when needed and made up a very strong and effective attacking unit. Eimear Nulty also made a significant contribution when she came on as a substitute.
Congratulations to all involved, both players and management
Killygarry Squad: Joanne Reilly, Ciara Grogan, Tara Gannon, Orla O'Brien, Jena McConnell, Maria Lovett, Katie Sheanon (1-00), Eimear Kennedy, Katie Lynch (0-01), Caitlin Dowdall, Emma Comiskey (4-04, 1pen, 2f), Eimear Nulty (0-01), Emma Tierney, Leanne Sheridan (1-02), Aoife O'Shea, Ava Shiels, Gemma Cullen, Gráinne Smith (0-01), Paige Conroy (0-01), Sinéad Cahill.