Minors' narrow loss in our first-ever Div 1 Championship Final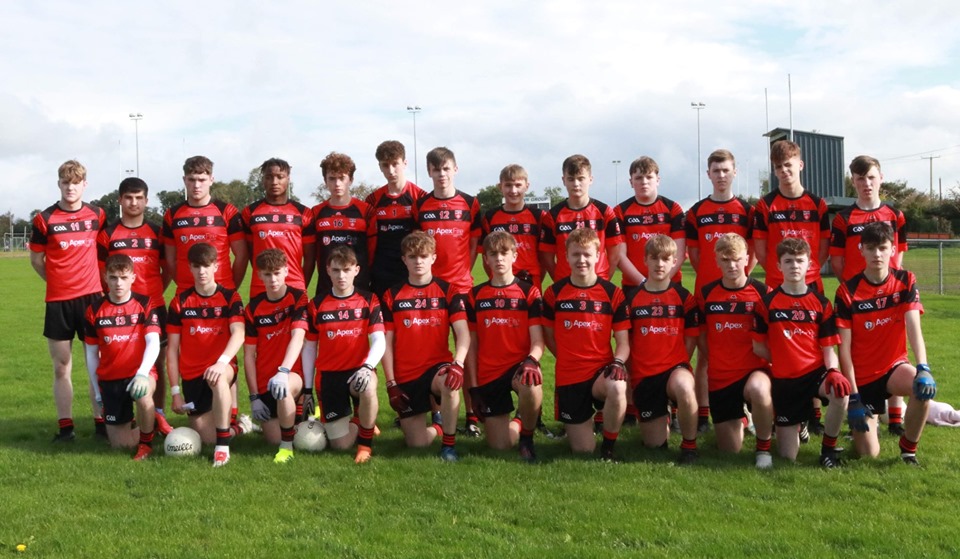 Minor Division 1 Championship Final: Drumloman Gaels 0-17(17), Killygarry 1-12(15)
It was a big day for our Minors last Sunday when they became the first team in the Club's history to compete in a Division 1 Minor Championship final. The majority of the sDiv 1 quad started off the day by attending 10AM mass in Killygarry Church and they looked very smart in their Club gear. Then it was off for pre-match preparations and get to Breffni Park for the 1.30 throw-in. It had been rainy all morning and the underfoot conditions were slippy but our lads got off to a flying start with two Darragh Lovett points from play. Drumloman then got into the game and clocked up five points without reply. The second quarter belonged to Killygarry. They were sharper in all areas of the field and that was reflected on the scoreboard. Jack Mooney, Ben Mooney (2), Darragh Lovett (2) and Kevin Lovett all scored while Drumloman got two points to leave the halftime score Drumloman Gaels 0-07(7), Killygarry: 0-08(8).
Our lads took up where they left off when the second half started. Half-back Kevin Lovett grabbed his second point which must have ranked as the score of the match. He broke multiple tackles from the backline to convert from long range. Ben Mooney got the next two points. Killygarry had missed a few goal chances earlier in the game but Ben Mooney put that right in the 10th minute of the half when he broke through to rattle the net. Drumloman replied with a point which was cancelled out by Jack Mooney in the 18th minute.  Unfortunately, this was our last score of the game. Drumloman were physically stronger and gained confidence with each score. They scored eight points without reply in the last quarter and despite all the best efforts from our lads, they could not stem the tide. Every player should hold their head up and feel proud of what they have achieved. Everyone played his heart out on the day no-one  should have any regrets. The Club is proud of every one of the players and management. Thanks for providing some great displays of skills and efforts throughout the season.
Killygarry Squad: Cormac Lynch, Kevin Lovett (0-02), Patrick Breslin, Cian Reilly, Darragh Lovett (0-04), Adam Butt, Ben Mooney (1-04, 2f), Conor McCabe, Jack Mooney (0-02, 1f), Mark McDermott, Mikey McCabe, Oscar Brady, Shane McCabe, Richard Ayodele, Cillian Moran, Paul McCabe, Dara Brady, Paddy Reilly, Dylan Glynn, Dylan Mulvany, Eoin Gilsenan, Gerry Murphy, Nik Serga, James Gannon.